Radio comments:
"Sacumba is lively! What a disc!" - Neil Bement, WBZC, Chicago IL
"Very bombastic and tribal! It really gets you fired up!" - House of Music, Chicago IL
"Luis Garay has some fire in him!" - Derek Rath, KPFK, North Hollywood, CA
"We are beating the drums of Sacumba!" - Christopher Albright, WTUL, Harvey, LA
"Sacumba makes a drummer skip a heartbeat!" - Judith Gill, WCNI, New London, CT
"Sacumba is a wonderful CD." - Jackie Sauter, North Country Public Radio, Canton, NY
"Sacumba is a fine recording by the multi-talented percussionist Luis Garay, and it's in regular rotation on KXLU's Groove Time here in los Angeles." - Chris Johnson, KXLU, Los Angeles
"Of course I am playing Sacumba; it's a great album!" - Avotcja Jiltonilro, KPFA/KPOO, San Francisco
" 'Sacumba' is a strong 'good vibe' CD, and percussive as can be!" - Jenny Kaybee, KEOL, Oregon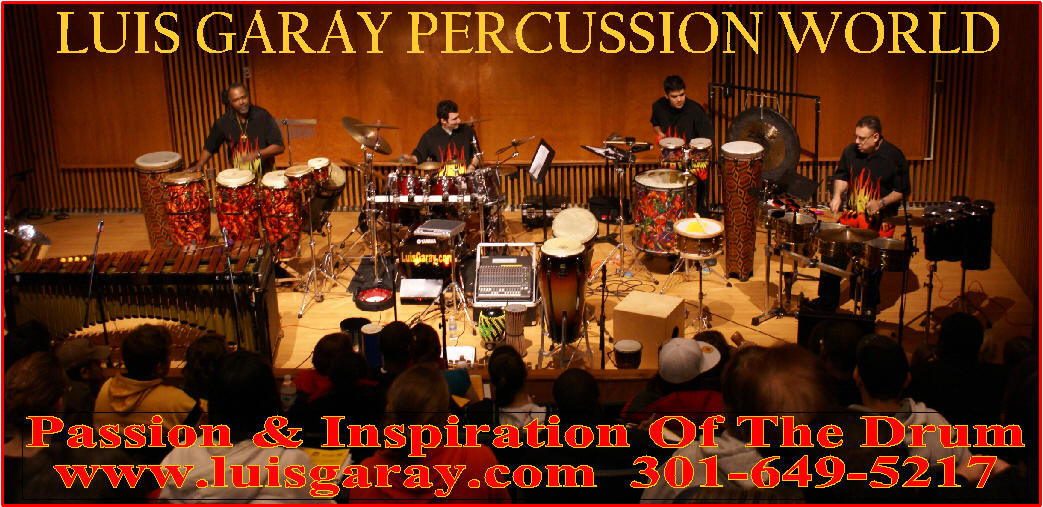 301649-5217
AFRO-LATIN PERCUSSION GROUP ( drums, congas, bongo, timbales, djembe, Marimba, steel drum and more, 4 musicians) is available for your event. 30 years experience, Wonderful original music Afro-Brazilian, Afro-Cuban, African rhythms high energy performance. Also available congas duet or trio (marimba, steel drum and congas)

Corporation, private and family events available and more
Booking contact Luis at: 301-649-5217 http://www.luisgaray.com/contactone1.htm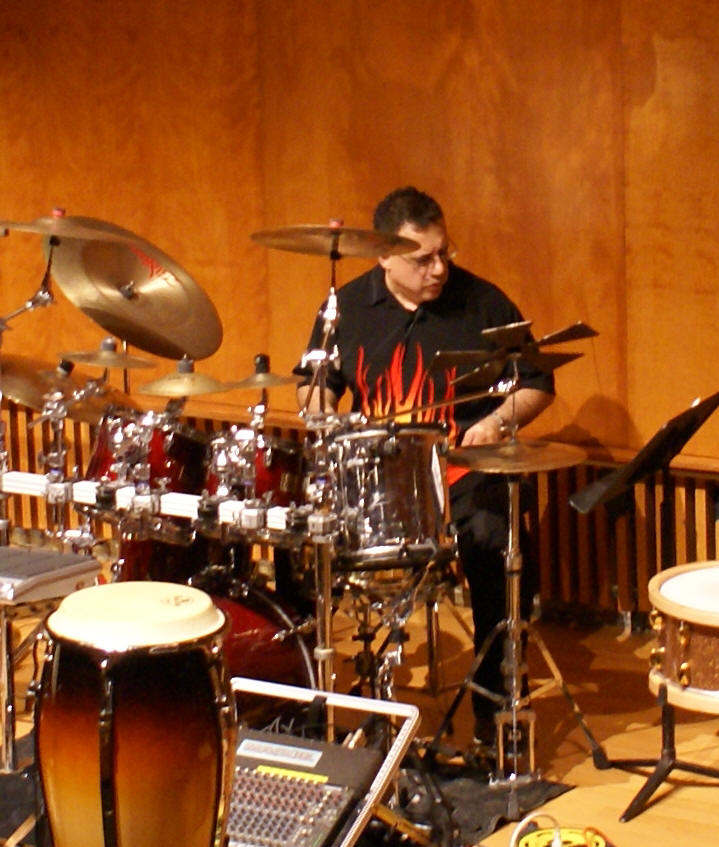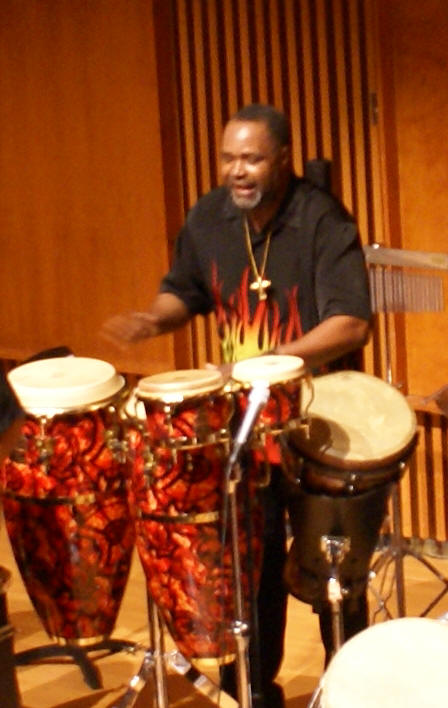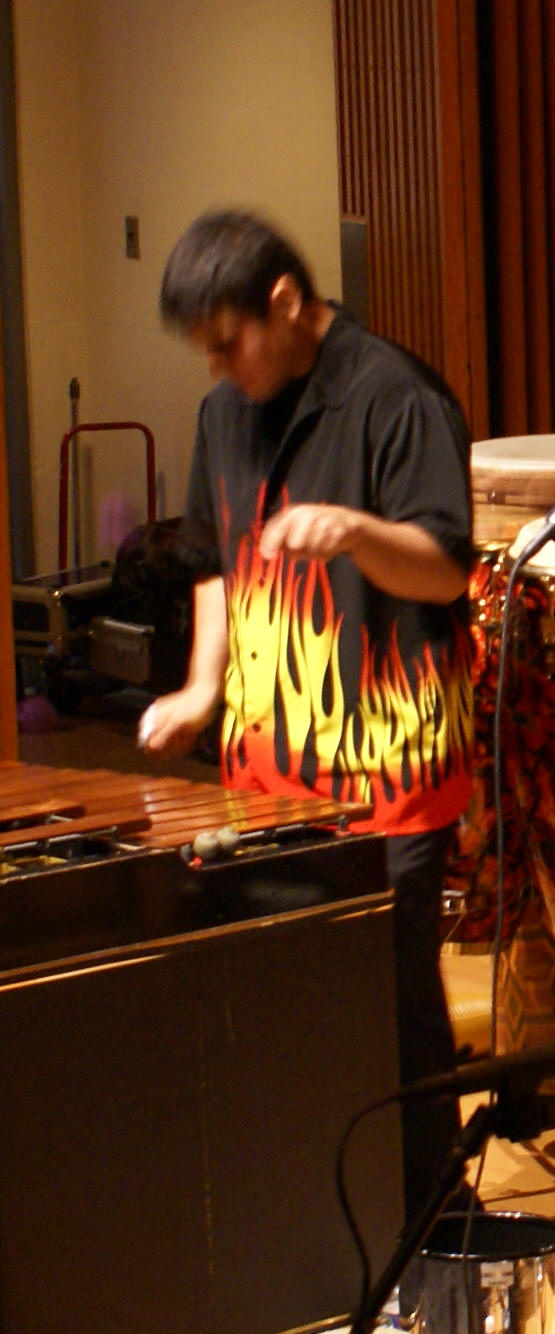 Percussionists:
Luis Garay, Wilbur Wood, Axel Garay, Igor Koslov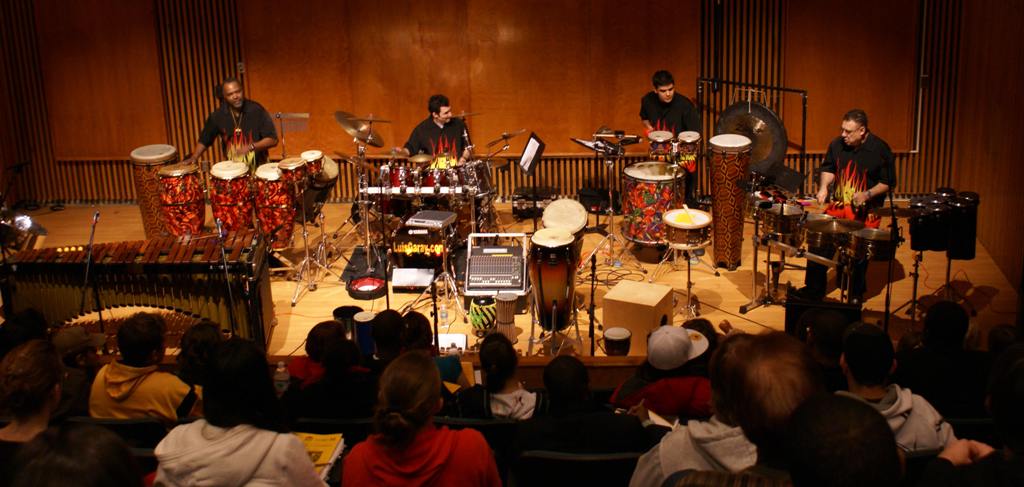 At: The Community College of Baltimore County, 2008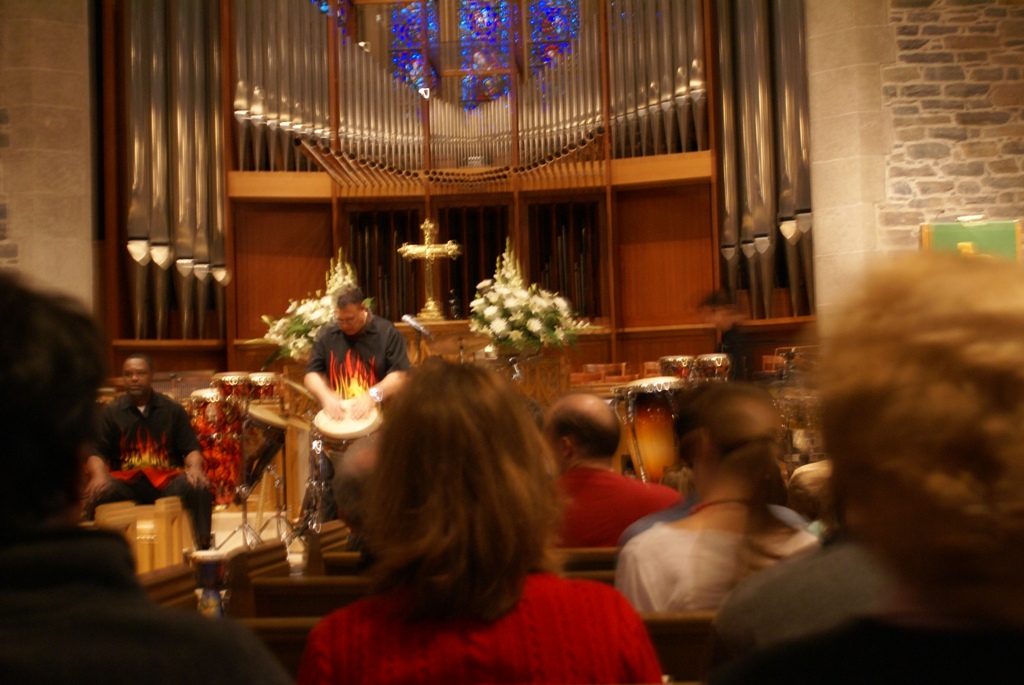 CHEVY CHASE CONCERTS, 38TH Season – 2008-2009, Chevy Chase Presbyterian Church, Washington, DC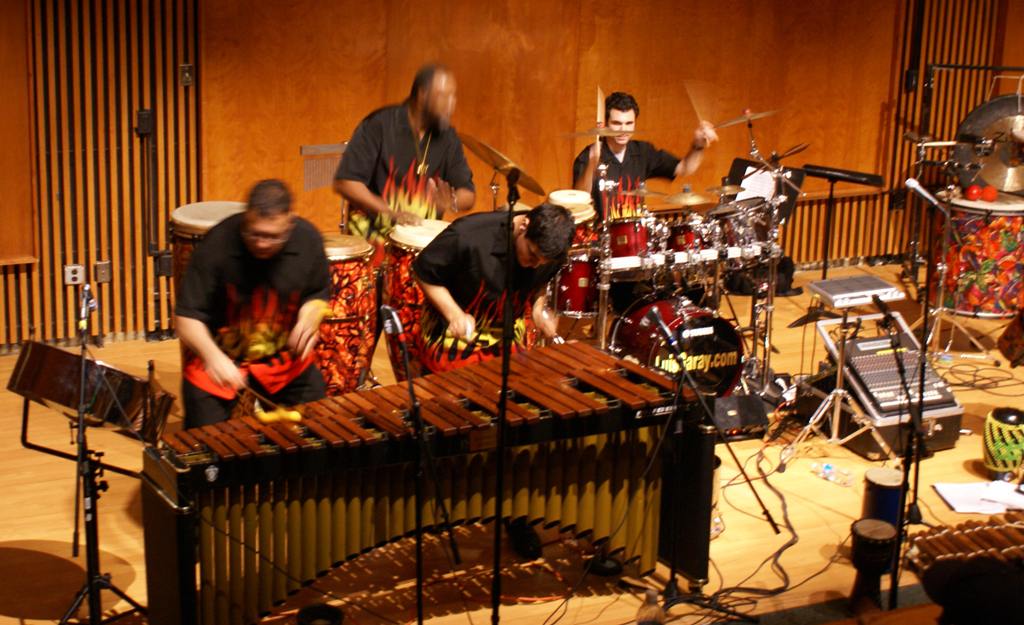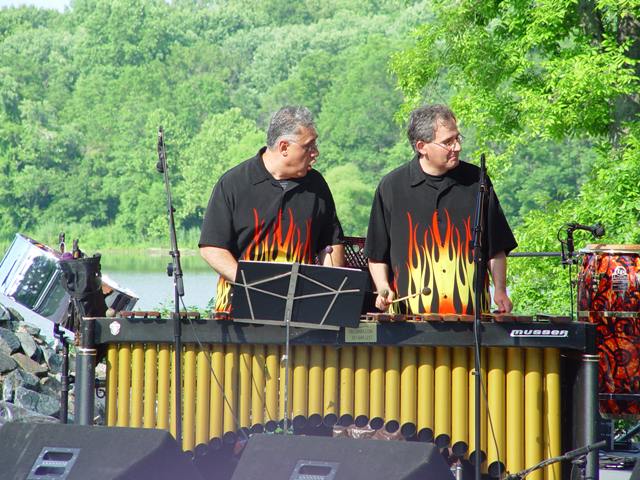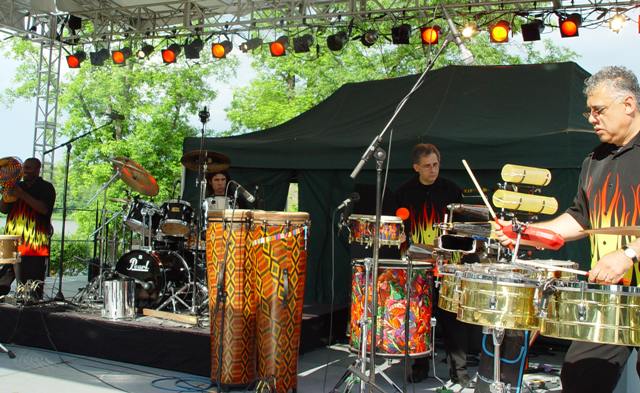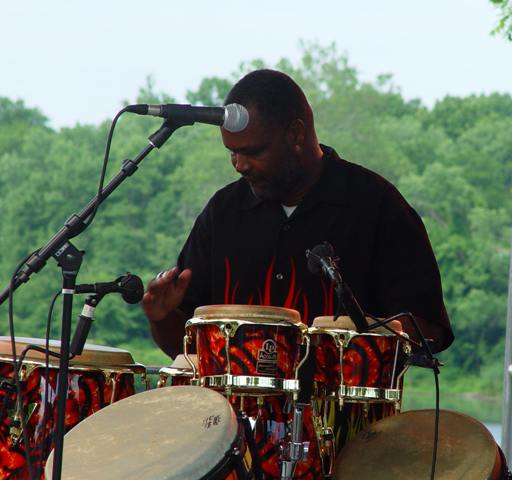 COLUMBIA FESTIVAL 2006


With Afro-Latin Dancers at Black Rock Center for the Arts summer 2005
LUIS GARAY PERCUSSION WORLD'S Washington DC Area Performances



<![if !vml]>

<![endif]>


This multicultural group was conceived in 1996 in Washington D.C. The members are professional percussionists. The ensemble performs world rhythms, specializing in rhythms of the Americas and Africa. In the performance you will enjoy exciting music during a high energy concert for percussion instruments including drums, congas, bongos, timbales, marimba, steel drum, djembe, ashiko, talking drum, slit drum, berimbao, bombo, and multiple accessories such as shekere, agogo, maracas, clave, rain stick, buffalo drum, African cowbell, guiro, etc. You will experience Afro-Latin jazz rhythms (Brazilian and Cuban) and fusion (Latin-Jazz and funk). LGPW Ensemble has also performed at The Kennedy Center, Wolf Trap, Smithsonian Institution, Catholic University, University of Md., Trinity College , Hall of the Americas, U.S. Department of State and the US Justice Dept. Argentina Embassy, Washington Children's Hospital and in many public and private schools in the Washington DC area.
• Concert Performance – LGPW is available for College / High School, international and family nights, festivals, conferences, conventions, corporation events, and more.

<![if !vml]>

<![endif]>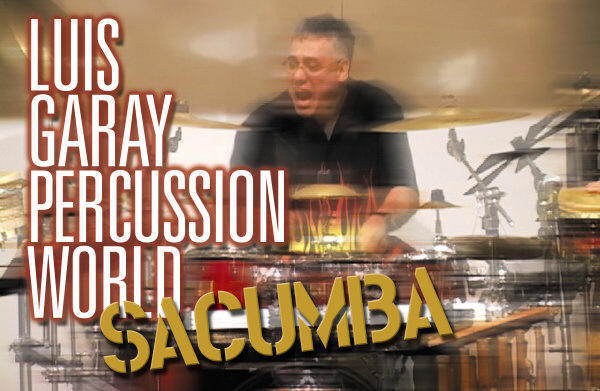 You can order the CD by credit card at:

To get a free autographed poster please purchase the CD by check or money order click here to order
SACUMBA REVIEWS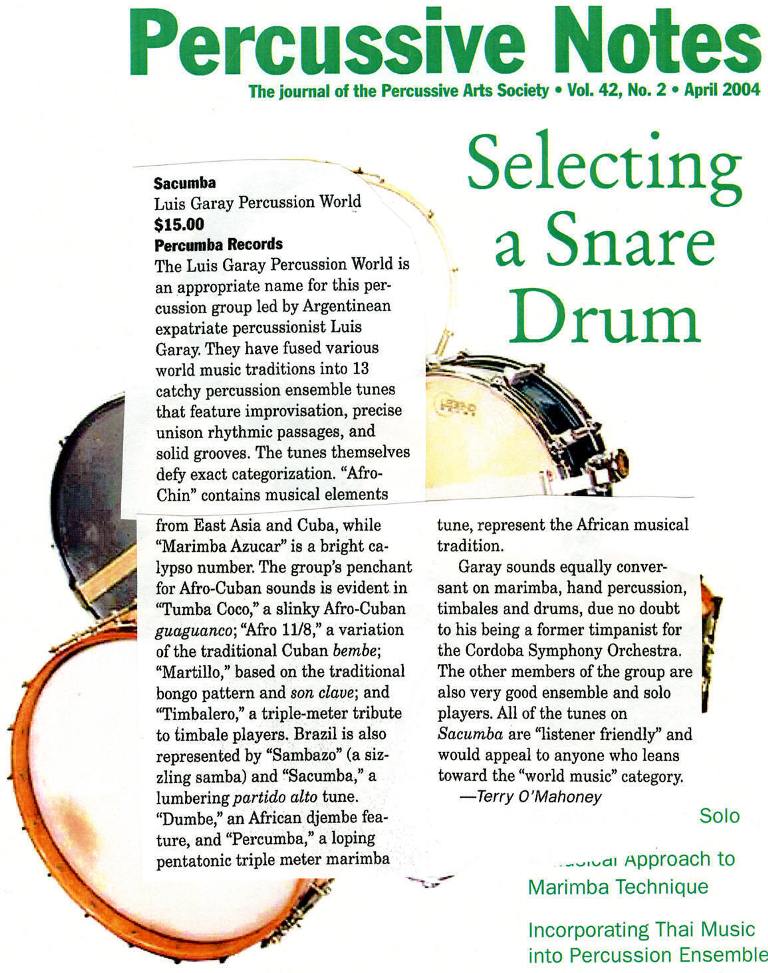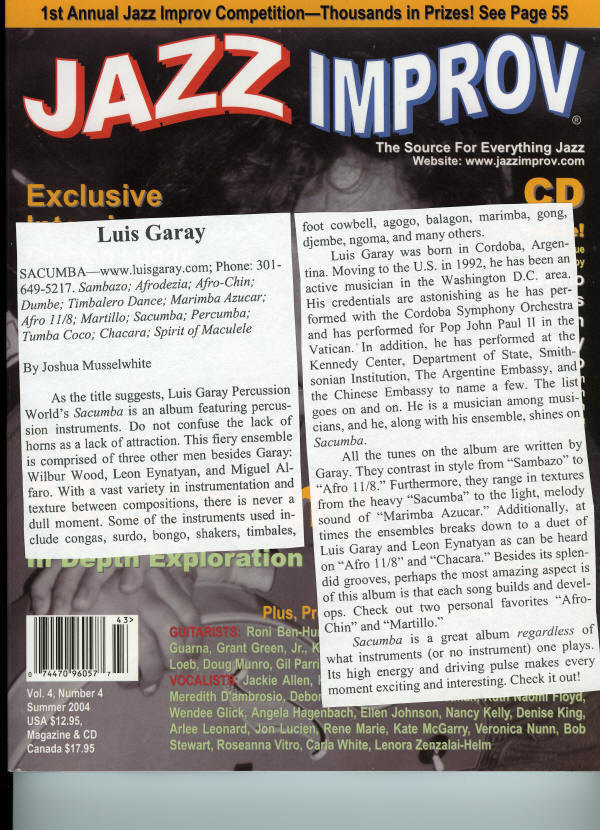 World & New Age Music Reviews
(To hear 15sec. Sound Bites of Some of these Reviews – Click Here!)
Or on the CDs or Music Titles highlighted in these reviews!
By Kathryn Sargent

Picture yourself right in the midst of thousands of dancing, squirming, half-naked celebrants in a Mardi Gras parade in Rio, with drums pounding fast and furious all around you in a half-mad frenzy, and you'll know what to expect from the title track of Luis Garay's Percussion World: Sacumba. It's so HOT! It just SIZZLES! (Do you have any idea how hard it is to type and dance at the same time?) Luis Garay leads percussionists Wilbur Wood, Leon Eynatyan, and Miguel Alfaro on kit drums, whistles, Argentinean drums, whistles, gongs, bells, ngoma, chimes, congas, djembe, colanuts, bongo, agogo, timbales, surdo – basically, if you can hit it and make rhythm, it's here! Sacumba is full of power and grace. Don't miss this one!
Sacumba
Luis Garay Percussion World

The Luis Garay Percussion World proves once again that percussion can hold its own. On the newly released Sacumba the group is lead by percussion legend Luis Garay. Other members of the ensemble include, Wilbur Wood, Leon Eynatyan and Miguel Alfaro. They perform on a variety of percussion instruments including, kit drums, whistles, marimbas, Argentinean drums, and a wealth of Afro-Latin percussion such as congas, surdo, bongo, agogo, timbales, tambourine, colanuts, djembe, ngoma, and if that were not enough, they also throw in gongs, bells, and chimes.
Garay who was born in Cordoba, Argentina, studied at the Cordoba State Conservatory of Music. He continued his education at the Catholic University of America, with advanced studies at the Escola de Musica de Brasilia in Brazil. The intense, yet organized percussion arrangements highlight Garay's classical training. The variety of instruments used throughout every piece brings a liberal and verbose intensity to the arrangements.
Garay has received numerous awards and accolades over the years for his incredible use and understanding of percussion. The prestige and honor has not changed his dedication and willingness to experiment with new and innovative percussion techniques and sounds. This innovation can be heard on every track of Sacumba.
The addition of the incredible conga player Wilbur Wood adds a cohesive sound to each track. The combination of Latin American and African percussion beats is an exhilarating and ongoing barrage of beats, bangs, rhythms and phonic riots.
Percussion World rallies between the varied and irregular beats of Latin music to the constant and full tribal rhythms. On the track "Dumbe", Garay, Wood, Eynatyan and Alfaro all play only Afro-Latin drums, including the djembe, congas, ngoma and bongo. The driving and weaving sounds created by the drum circle of musicians shows the power of the mighty drum. The puling beats will course through your body and direct your momentum.
To change up the drum circle vibe, the ensemble pulls together "Marimba Azucar", which is a tribute to the beauty and vibe of the marimba. The marimba solicites memories of the pacific coast and the fresh ocean air. Garay refers to it as the classic surfer film feeling. It is the driving force behind the surf guitar.
Sacumba is an album that commands the listeners attention. This is not a CD to put on at a party for mellow background music. This is a CD for the musician and specifically, the percussion enthusiast. Drum lines, jammin' drum circles, the symphonic timpani solo, the guy in the subway playing the bucket; if these are the sounds that appeal to you, then Luis Garay has created an ensemble and a CD that will bring the beat home.
Visit www.luisgaray.com for more information.
http://www.jazznow.com
Luis Garay Percussion World
Sacumba
Percumba Records LG2209
Luis Garay, Wilbur Wood, Leon Eynatyan, Miguel Alfaro, drums, marimba, Argentinian drums, Afro-Latin percussion, etc.
This is an adventurous and highly enjoyable trip around the world of Afro-Latin percussion through the eyes, ears and hands of multi-instrumentalist Luis Garay. Perhaps most notable about Sacumba is Garay's fashioning a cohesive and satisfying musical ensemble from a unit of four players, playing nothing other than percussion instruments. It's a tribute to his leadership and artistry that his own individual virtuosity was de-emphasized in favor of the ensemble sound itself, and that the arrangements manage to sustain interest throughout. Even those not fanatical about drums and percussion will find something fresh and enjoyable here.
A native of Cordoba, Argentina, where he was highly accomplished both as a performer and an educator in symphonic, Latin and other musical fields, Garay has continued his successes since emigration to the U.S. Now based in Washington, D.C., Garay brings a special focus and orientation to percussion, and to "Afro-Latin" music. There is an exposure to Argentinian instruments and approaches (as distinct both from non-South American ones, and from those of neighboring Brazil) which is different from what might be heard from many or most such ensembles. Not to worry, as Garay also is quite adept and knowledgable regarding the Brazilian aspects too, so he is able to bring an original fusion of elements together to convey what he calls "the passion and inspiration of the drum."
A particular favorite of mine is tuned percussion instruments such as the marimba, a wooden keyboard played with mallets, and this instrument is used evocatively in a number of settings. It conveys an Asian flavor on "Afro-Chin," and just as effectively brings Mexico and Central America to my mind on "Marimba Azucar."
This release is one well worth seeking out, both for percussion lovers interested in a new twist or two, and for anyone else open to something crisp and tastefully different. Neither bombastic nor monotonous, Sacumba provides us a compelling introduction both to a noteworthy artist in Afro-Latin music, and also to the vitalily of percussion ensembles themselves.
by Eric Golub

http://www.smother.net/reviews/hiphop.php3?ID=91
Luis Garay Percussion World - Sacumba

Luis Garay is from Argentina and is the former principal timpanist with the Cordoba Symphony Orchestra and his skills I dare say are unmatched. As a drummer myself I already have a predisposition towards percussion but I'm quite critical of others. But this is like a study of the masters all wrapped together as one. The sounds of Afro-Latin percussion aren't just complex and ornate, they're able to literally write a song and melody line by themselves. This is the best introduction to the wide world of solo percussion and all its complexity.

- J-Sin
Garay, Luis Percussion World / Sacumba

Decca


Reviewed 2004-03-12

Seriously hot drumming. Garay is from Argentina, but now lives and teaches in the D.C. area. This CD of instrumentals features a wide range of percussive instruments showcased by a strong band. Tracks mostly with a Latin or Afro-Latin flair, but often explore percussion styles of other countries as well. Play it all!

*1. Fast, high energy carnival samba w/whistles & drums. Wow.
2. Rockin Afro-Latin track. Gets into a nice groove.
*3. Asian-influenced track w/lyrical marimba, wild bongos, bird whistle
4. Great African drum mix w/strong rhythmic interplays.
*5. Dramatic opening, powerful accents, seriously cool.
6. A sweet & happy little dance w/nice use of marimba.
7. Cool blend of djembe, conga, ngoma, & claps.
*8. Sharp & fast w/a bright energy & great sound.
*9. A big, fast, epic drum jam. It goes to interesting places.
10. Starts slower, builds in energy into a strong, kind of dark groove.
11. Energetic Latin jazzy feel w/great mixes of drums & calls from band.
*12. Spare but dramatic sound. You can almost feel this vibrations.
13. Fast & wild blend of tricks w/a hot, Latin feel.
3.2004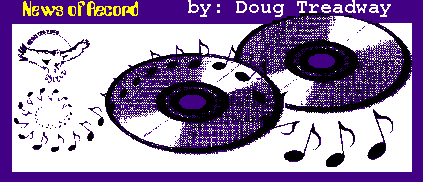 SACUMBA
Luis Garay Percussion World
Percumba
Hey, back to South America - I mentioned Brazilian religions before and one of those is Macumba, which is on the black magic side. I have no idea if Sacumba bears any relation other than a similar name, Luis Garay being from Cordoba, Argentina and all, but the very first song on this album employs a two-note samba whistle, which I first heard in Brazil. Garay also plays a quica (spelled cuica in the liner notes), which is another instrument I first encountered in Brazil. It is a drum more or less, but instead of beating on it, one plays it by sawing at a hole in the head. There is no berimbau, but there are djembe, surdo, ngoma, agogo, marimba, timbales, and bongo and conga drums. Yep, other than that one little two-note whistle, it's all percussion, hypnotic and highly charged. I suspect that the time signature employed most often is like 16/8. Ah, here it is in the liner notes: in addition to the Cordoba State Conservatory, he studied at the Escola da Musica de Brasilia, which is in the capital of Brazil. He currently has a studio in Silver Springs, Maryland. He wrote the songs and recorded them with Jim Curtis at Omega Recording Studios in Rockville, Maryland. If you're into percussion, this is an amazing album for the variety of ritmos and instruments that you experience under one cover - and I was just kidding about the time thing
Sacumba with Luis Garay is an ensemble recording performed entirely on percussion instruments. Garay, along with Wilbur Wood, Leon Eynatyan, and Miguel Alfaro, (collectively known as Luis Garay Percussion World), perform on kit drums, whistles, marimbas, Argentinean drums, and a wealth of Afro-Latin percussion. These eclectic influences really groove together, with grace, style, power, and fire, whether you're listening to the melodic and breezy "Marimba Azucar", the hypnotically smooth twin-marimba rhythms of "Afro-Chin". or the blazing energy of "Sambazo."
Accent Tampa Bay
This Luis Garay character has been AROUND! He started out playing percussion in his homeland of Argentina and has since performed for the Pope, at the Kennedy Center, Constitution Hall... He has also founded numerous educational endeavors to help young people learn to be percussionists that can pull off this kind of record. This is a recording of exclusively drums and drummers, so if you put it on expecting an Afro-Latin jazz combo or something, you'll be surprised. There are 13 cuts here of extensive and highly technical polyrhythm. This isn't really sing-along music or driving music, obviously, but for a good idea of what some of the top Afro-Latin percussionists in the country, maybe the world, are up to, give this a spin.

Key track: "Afro-Chin"

Reviewed by: Kent Walter, www.1340mag.com

After Mickey Hart whetted your appetite for drum planets, Garay picks up the stick and beats his own drum. Packing a raft of instruments that go beyond just the regular drum related instruments, Garay and his pals bang on everything in sight but take it much farther than something like "Stomp" or "Blue Man Group". With the added edge of adding international flavor, Garay opens your ears and handily beats a great time into shape.

- Midwest Record



Luis Garay is a world percussion virtuoso that combines his talents with a playful spirit resulting in unexpectedly joyful concoctions. For instance, take the Sino-African "Afro-Chin" with its exotic blend of tribal beats and Oriental allusions. This percussion quartet employs an entire spectrum of percussions instruments from kit drums to whistles and congas to chimes on this instrumental CD. (5)

http://detroitmusic.com/outsight/

Listen to or Buy at Amazon.com
LUIS GARAY PERCUSSION WORLD: SACUMBA
Percumba Records


I've got an idea for a CD project: a 52-minute drum solo. Wait, don't leave! It's not just one drum, we'll include congas, surdos, bongos, cajons, djembes. And for more melodic interest, we'll include whistles, timbales, marimbas, cuicas, bamboo chimes, and cowbells. I confess: it's not my idea, but the brainchild of Argentina-born, classically trained Luis Garay. As Professor of Percussion at the Cordoba State Conservatory of Music, Garay knows a bit about putting together engaging music, and any fan of percussion, jazz, or world music should find this a fascinating CD. The sounds include sambas "Sambazo" and "Sacumba," the jungle groove of "Afro-Chin," the manic bongos and congas of "Martillo" and the sparse yet thick "Chacara" with muffled Argentinean drum and sharp cajon. Garay and his Percussion World perform primarily on the East Coast, but this CD gives you a first-class ticket to a country where percussion is melody, and everyone grooves.

©2004 Scott Allan Stevens, Earball Media
http://www.splendidezine.com/review.html?reviewid=1087294465519547
Argentian-American percussionist Luis Garay is well-versed in a variety of African and Latin percussion instruments and styles -- he has performed throughout the world for more than thirty years. Joined by three fellow percussionists, Wilbur Wood, Leon Eynatyan and Miguel Alfaro, Garay creates effusive music for percussion ensemble;
Sacumba
, filled with "fascinatin' rhythms", is terrific stuff.
Whistles, congas, timbales, agogos and shakers fill the soundscape of "Sambazo", a muscular piece with a powerful groove. Just when you feel settled by the music's metric phrasing, Garay and company shift gears, adding fills and syncopations that keep a sway in the dance. "Afrodezia" features more antiphonal interplay between the musicians; a top strand of busy activity is set against a heavy underlying pulse. Both of these compositions have something of a relentless demeanor, but at three minutes per song, this intensity doesn't wear out its welcome.
The Garay Percussion World also create material with gradual build-ups and more subtle shapes. "Afrochin" is an example: it features a wide array of instruments, both pitched (chimes, marimbas, gongs, whistles) and unpitched (congas, bongos, drums). The arrangement doesn't employ everything all at once, but brings different portions of the percussive palette in and out of the texture, creating a shimmering musical surface.
Polyrhythms and a complex meter are explored on "Afro 11/8", a duet between Garay and Eynatyan. Taking a fearsomely fast clip, the twosome alternate claps with performances on djembe, ngoma and congas. "Chacara" is another virtuosic duet between these two, who this time play Argentinian drums with authority.
My favorite piece here, however, is "Marimba Azucar". Both Garay and Eynatyan play marimba, while Wood and Alfaro articulate a Latin rhythm on drums, bongos, conga and shakers. Single-note solos and rolled chords juxtaposed against lively beats make an attractive combination of sounds. Still, picking a favorite wasn't easy, as Sacumba entertains throughout. Garay and company ably remind us that the oft-neglected percussion family of instruments can create a whole range of music in which keeping time is only the beginning.
Luis Garay Percussion World - Sacumba (Percumba)
Argentine-born and U.S. based, Garay is a powerful percussionist, joined by three others here to explore Afro-Latin roots, which they do in excellent fashion (and with pristine recording). The sambas crackle, but perhaps the biggest joy comes with the marimba pieces, which simply glisten.
http://www.globalvillageidiot.net
(Percumba Records)
If you like drums and percussion instruments, you'll enjoy this quartet of master percussionists led by Luis Garay. Born in Cordoba, Argentina, Garay is an accomplished percussionist who held a timpanist position in the Cordoba Symphony Orchestra, prior to relocating to Washington, D.C. in 1992. In his 30-year career, this classical, jazz, and Afro-Latin multi-percussionist has performed throughout the world, receiving numerous honors and awards, including recognition by the U.S. Government as an "Artist of Exceptional Ability," the Gold Modal from the International Rotary Club, and the honor of performing for Pope John Paul II in the Vatican. A faculty member of several major educational institutions in Washington, D.C., as well as in his native Argentina, Garay enjoys teaching, solo performing, and leading his percussion quartet. This CD includes 13 original compositions interpreted in their totality by percussion instruments from around the world by a cast of four. Garay plays trap drums, Antillean percussions (congas, timbal and bongo), African percussions (djembe, shakers and bells), Brazilian percussions (surdo, cuica, whistles and agogo), Asian percussions (bamboo chimes, temple blocks and gongs), Argentinean percussions, and marimbas. Completing the quartet are Wilbur Wood on Latin and African percussions, Leon Eynatyan on ngoma, colanuts, Antillean and Brazilian percussions, and Miguel Alfaro on trap drums, Antillean and Brazilian percussions. Highlights include the opening track Sambazo (a Brazilian descarga of batucada and samba rhythms), Afro-Chin (a blend of world percussions that sets the scene for a duet of marimbas by Garay and Eynatyan), and Martillo (a 3/2 clave beat featuring both Garay and Wood on bongo.
COPYRIGHT 2003 Latin Beat Magazine
COPYRIGHT 2003 Gale Group
http://articles.findarticles.com/p/articles/mi_m0FXV/is_9_13/ai_111402001
Luis Garay - Sacumba 3/4
O's Notes: The power and passion of the drum is explosive. Argentine drummer and percussionist, Luis Garay has assembled his 'Percussion World' to perform an entire session centered on beats and beating. His band is Wilber Wood (congas, percussion), Leon Eynatyan (percussion, marimba) and Miguel Alfaro (bongo, timbales). Songs like "Martillo" will help get your blood circulating, as does the opener, "Sambazo" and the melodic sounds of "Afrodezia" are intoxicating. Sacumba is a step away from the mainstream and into the halls of Garay. It is an invigorating session.
--
D. Oscar Groomes
O's Place Jazz Newsletter
P.O. Box 2437
Naperville, IL 60567-2437
http://www.OsPlaceJazz.com

http://gazette.net/gazette_archive/2005b/200532/entertainment/musicfeat/288498-1.html
A passion for percussion: Luis Garay at BlackRock

by Chris Slattery
Staff Writer
---
Aug. 10, 2005
Submitted photo
All fired up: Luis Garay (center) brings Afro-Latin music to BlackRock.
Talking to master percussionist Luis Garay, one can almost hear the exotic birds of his native South America and beyond chirping happily in the background -- possibly because his Silver Spring home/studio is a haven for the creatures.
"I love the jungle," he admits. "I love its sound, and the sound from the birds makes me feel connected.
"I have exotic birds: lovebirds, African grays, eclectus from the Solomon Islands, cockatiels. I always liked birds."
Not that he's a country boy: Garay was born in Cordoba, Argentina's second largest city.
"My parents were born in the country," he explains. "When I was a kid, my parents took me to my grandparents, and the birds -- parrots -- were a passion there."
Also a passion: music. His parents favored Argentina's tango, but Garay says, "Some people tell me, 'You were born in a different country!'"
That's because he's passionate about percussion, especially as it manifests itself in the Afro-Latin tradition. And on Saturday night at BlackRock Center for the Arts, Garay is planning to unleash the rhythms of the carnival on the Germantown crowd.
World music
"I chose my career as a drummer when I was 14," Garay explains.
That career spans 30 years and includes performances as a percussion soloist and as director of the Luis Garay Percussion World Ensemble plus current academic appointments at Catholic University, St. Albans School, National Cathedral School and Berman Hebrew Academy.
Back then, though, it was about rock and roll.
"My friends played guitar and bass," he remembers. "My friend said 'Luis, you have to play the drums!'"
That garage band is just a memory, but Garay was hooked on performing.
"All the magic of the music, all you can do to inspire people," he says. "It's so much fun."
For Garay, inspiration came in a combination of classical, Brazilian and jazz music. He graduated from the Cordoba State Conservatory of Music and was a professor there, as well as chairman, instructor and director of the percussion ensemble for 12 years.
"Studying classical music was good," he says. "It gave me the musicality.
"Studying Afro-Latin music gave me the creativity."
With that in mind, perhaps, Garay left his position as principal timpanist for the Cordoba Symphony Orchestra in 1992. The draw? A fellowship from philanthropist Amalia Lacroze de Fortabat to study at the Catholic University of America. There was a job offer, and a green card application, more jobs and a CD called "Sacumba."
Garay's a United States citizen now, delighted to be part of the eclectic cultural and musical scene right here in Silver Spring.
"I was attracted from the beginning to Afro-Latin rhythms," he says, "but here, I met the world!"
August Carnival
August isn't the traditional time of year for a Latin-flavored carnival, but percussive salsa sounds like the perfect combination for a sultry summer night.
"I'm really very happy to have the opportunity to play for people in Germantown," says Garay. "You have to feel happy to make other people happy with the music."
His music has taken him farther afield -- to Europe where, most notably, he performed for Pope John Paul II in the Vatican.
"It was very peaceful -- a blessing," he says. "It happens only one time in life, and I'm reminded of it in my heart. It inspires me to do what I am doing."
Which is to bring the joyous Afro-Latin beat to audiences.
"People are looking for inspiration, for fresh stuff, ways to use the imagination and feel good," he notes. "We'll make a carnival, with the drums and dancers and my quartet: Wilbur Wood, Leon Eynatyan and Axel Garay -- my son."
The percussion quartet (they use congas, surdos, bongos, cajons, djembes, whistles, timbales, marimbas, cuicas, bamboo chimes, and cowbells) promises a high-energy show, but Garay is coy about whether or not the audience will be compelled to dance.
"I believe in spontaneity," he says. "We're going to play exciting music with a lot of creativity."
Anything else would be for the birds.
Luis Garay performs with Afro Cuban Drummers and Dancers at 7 p.m. Saturday in the BlackRock Center for the Arts, 12901 Town Commons Drive, Germantown. Admission is free. Call 301-528-2260.
Borrowing beats from around the world
On his musical journey, drummer learns from life
Wednesday, Aug. 16, 2006
Click here to enlarge this photo

Charlie Shoemaker⁄The Gazette
Silver Spring resident Luis Garay, shown here playing the drums, marimba and congas in his home studio, says the diversity of the area inspires his music.
For 33 years, Silver Spring resident Luis Garay has been making a living banging on things. Drum sets, bongos, steel drums, timpani — if you can name it, he can likely play it.
Garay's proficiency with percussion has garnered international acclaim and has provided opportunities to perform at locales such as the Kennedy Center and the Vatican, where he played for Pope John Paul II in 1993.
And to think, as a 14-year-old boy growing up in Cordoba, Argentina, during the 1970s, Garay's first drum set consisted of a fork, a knife and a shoebox he used to play songs by The Beatles in a band friends urged him to join.
''There was a singer, a guitar player and a bass player, so my friend said, 'Luis, you play the drums.' And I loved it," Garay said. ''From then on, I knew what I wanted to be. A doctor, a lawyer, no. It was too much fun playing the drums."
Though The Beatles provided early inspiration, Garay credits the influences of classical and jazz compositions for providing him with his ''musicality" and his ''creativity."
Since moving to America in 1992, Garay has discovered a new world of cultures and elements that have inspired him to experiment with his music.
''It's a global influence. I take the soul and the rhythm from South America, and then, from here and there, influence from Cuba, Africa, the Caribbean," Garay said.
For seven years, Garay has lived in Silver Spring, where he has found inspiration in Montgomery County and Washington, D.C.
''What I love about this area is the diversity. It's made my music richer, because it helped me understand the world, and I love that," said Garay.
For the sake of creativity, Garay said he has learned to play every percussion instrument in the world, with the exception of the tabla, which is popular in India.
Between the 60 to 100 concerts he performs each year, Garay finds time to share his passion for percussion with Washington-area residents during private lessons at his home studio.
Though he has students of all ages, including some who are close to 70 years old, Garay most enjoys teaching children.
''When I teach, I enjoy taking my students through the world of music and exploration. The music will always be a part of their lives. It doesn't matter what they will be when they are older," said Garay, who has had a few students become professional musicians.
Garay's ''exploration" approach to music is what makes him a unique teacher, according to parents.
''I think what distinguishes Luis as a teacher is his strong belief that students need to find their own motivation and inspiration to play," said Silver Spring resident Greg Pearson, whose son, Gabe, 12, has been taking lessons for five years.
''As a result he is very low-key in his teaching approach and open to letting Gabe try out new instruments and virtually any type of music," Pearson said. ''Gabe always looks forward to his lessons with Mr. Garay, which are often more like jam sessions than structured lessons."
For nine years, Garay has hosted a percussion camp during the last week of July at Catholic University. The camp lasts five days, and ends with a free concert at Catholic University where the students put their newly developed skills on display.
All music performed at the camp and concert is arranged and composed by Garay, who tailors it to correspond with the abilities of his students.
When he's not immersed in music, Garay enjoys spending time with the more than 20 exotic birds he owns. A few of his larger parrots are regular guests in Garay's home studio, where they sit silently most of the time except when motivated to interrupt Garay's performances with joyful cheers of approval.
The parrots even contributed to a song aptly titled ''Dance With The Birds" on the new, soon-to-be-released CD by Luis Garay Percussion World, a quartet featuring fellow percussionists Wilbur Wood, Leon Eynatyan and Miguel Alfaro.
''I've always loved the sound of the bird, of the jungle. So spontaneously one day, I fit the sound of my birds with my music," he said.
Even after 33 years, Garay remains astutely aware that he is just getting started on his journey as a percussionist, and it is the opportunity to use his music to continually reach people in new and exciting ways that keeps the experience fresh.
''This is just the beginning. It never ends until we die," he said.
Copyright © 2006 The Gazette - ALL RIGHTS RESERVED. Privacy Statement